Level 3 plus spring kit....picture above

The reason we don't offer level 1-3 spring kits for the XP4T is that there is no way to run a cross over ring with the factory upper springs. In addition, the front lower factory spring is too tall to run a long enough upper spring to take advantage of a cross over ring dual rate system. For this reason we have developed a Level 3+ spring kit. This includes the upper springs we would like to run if a standard level 3 kit were possible but with the addition of the front lower spring needed to run a functional upper spring. You could consider this the mid point between a Level 3 and 4 kit. This kit gets rid of the rear bucking and the stiffness in the small chop and chatter. For those of you that don't carry people in the rear of your four seater or those who are trail riders most of the time and want the rear as plush as possible, this is the kit for you.
Level 3+ spring kit...$709.50 (includes 4 upper springs, 4 cross over rings and two front lower springs)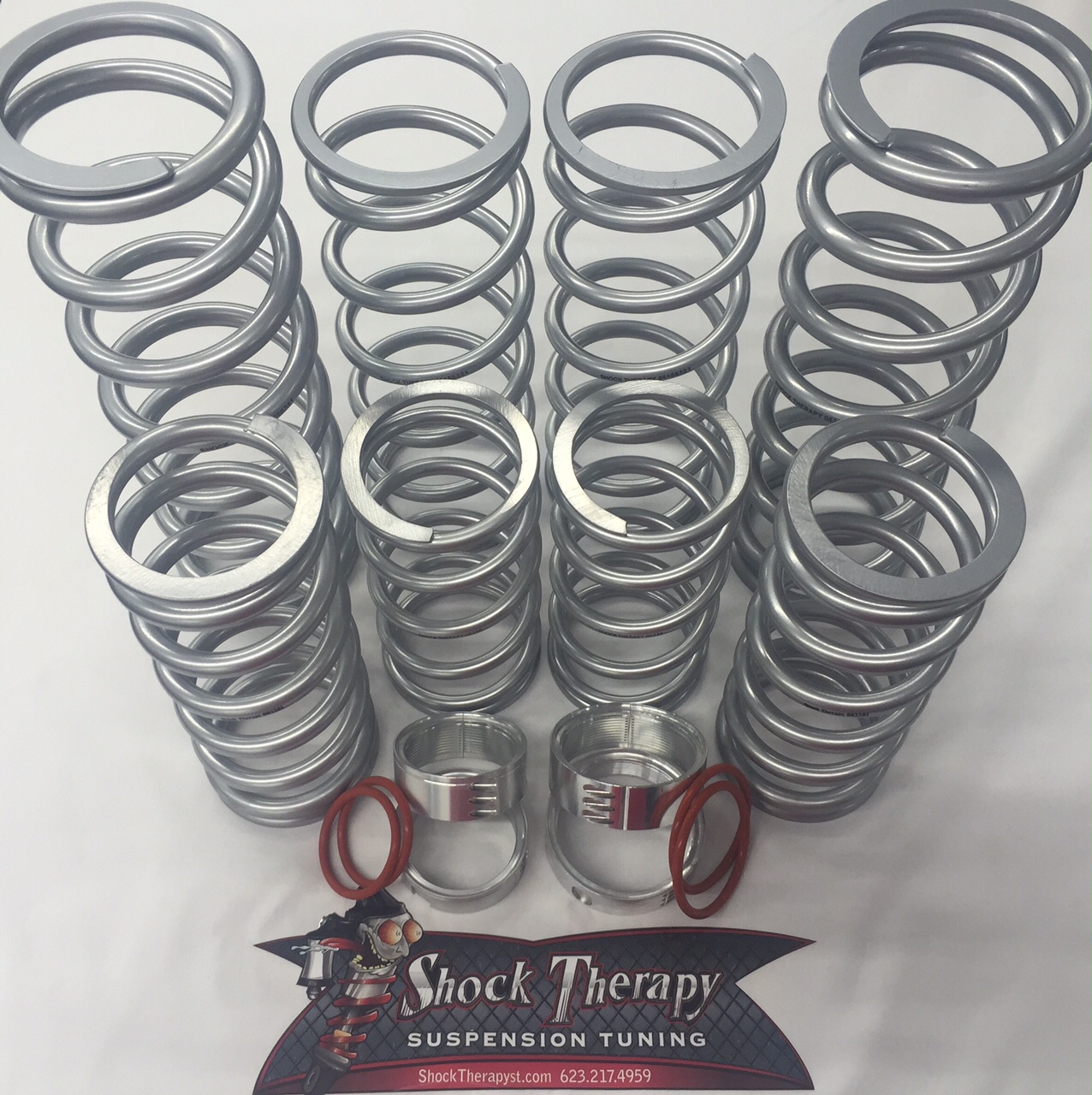 Level 4 spring kit. The ultimate in suspension improvement through the springs. This kit includes everything you need to install a true dual rate spring kit on your XP. With the much lighter upper springs you get an incredibly plush ride over the stock springs. Small chop and whoops become much smoother. Bucking and kicking in the rear is limited as well. The LOWER springs we supply are a heavier rate than the factory springs which helps you even more by eliminating bottoming, body roll and front dive. They allow you to run the cross over rings higher on the shock which lets you feel the softer combined spring rate longer for a more plush ride. Since the lower springs only come into play in the biggest hits you can run harder and faster than you ever could have before without bottoming out but at the same time retaining that nice plush ride at normal speeds. This kit is highly recommended to be run in conjunction with our internal valving. This way the added spring rates when fully compressed can be matched with more rebound control for the perfect performance in the roughest situations. This is the ultimate in smooth ride while still sacrificing nothing in the big hits. This kit includes 3.55" diameter rear springs which are considerably more costly than a 3" spring.

Level 4 spring……………………..……………$919.40
All of our proprietary springs are made in the USA from the highest quality CrSi materials. This means they are always the exact rate we want and don't fade or break. They cost more when made from this material but are absolutely worth it when it comes to function and longevity.