Contact us first for this kit, you must mail your shocks to us, Thank you
After months of testing and ordering custom parts that no other company has, our new 2016 XP4 1000 Turbo RIS kits are here! The new Turbo RZR has many good attributes. Fox internal bypass shocks and a front anti sway bar make this model quite a bit more plush and stable than earlier RZR's. After extensive testing of the stock set up in terrain from desert, dunes, trail, rock and mud, we were dying to dig in and improve the things we felt needed some help. Although the Turbo XP4 was more plush and smooth through mid size obstacles we felt that it was way too stiff and abusive to your body in the small chop and rocks, but at the same time it was too soft for the big hits like jump landings or dune G outs. Also, the dual spring system on the car utilized a completely collapsed upper spring which contributes to the stiff feeling through half the terrain since the car is riding on the stiffer lower spring 90% of the time.


Our first step was to cure the items on our hit list with internal shock work if possible. After much testing and too many re-valves to count, we nailed what we feel to be the best internal set up possible. More plush in the small chop, stable and confident in the whoops through mid travel and double the bump stage capacity for the big hits. Adjustable from soft in the desert and trails to stiff in the dunes just by adjusting the compression knob on the shock. This is accomplished through extensive internal machine work to the piston, bypass tubes, bypass valving, piston valving and total oil flow capacities. All of this work requires custom tools and tooling to accomplish. The best, single ride quality improvement possible is the Stage 1 RIS kit.

Stage 1 RIS kit, internal shock mods and bypass and piston valving….$749.95 all four shocks
Stage 2 RIS kit, includes Stage 1 shock work plus our adjustable, rear, anti sway bar.
Even though the factory XPT comes with a rear and front sway bars which helps tremendously, the rear bar is much smaller in diameter and spring rate than the original XP 1000. Our adjustable sway bar system is much stiffer and larger in diameter than the stock bar. In our softest adjustment possition, it is 50% stiffer than the stock bar is. This means that 60-70% of the factory body roll or top heavy feeling is eliminated with our rear bar instantly. This increases your corner speeds by keeping the car flat in corner. Stability is improved at all speeds, especially high speeds. Your confidence when cornering will increase. Your friends with a stock sytem will find it impossible to keep up with you on the trails as they slow down to corner when you just put it to the floor. One of the reasons we recommend our rear sway bar in the Stage 2 RIS is because the dual rate spring kit in the Stage 3 RIS will add 10% more body roll to the car since it is so much more plush at ride height. We recommend adding the sway bar before the spring kit so that any extra body roll gained will not be noticed.

Stage 2 RIS kit cost......$1,299.90
REAR SWAY BAR KIT BELOW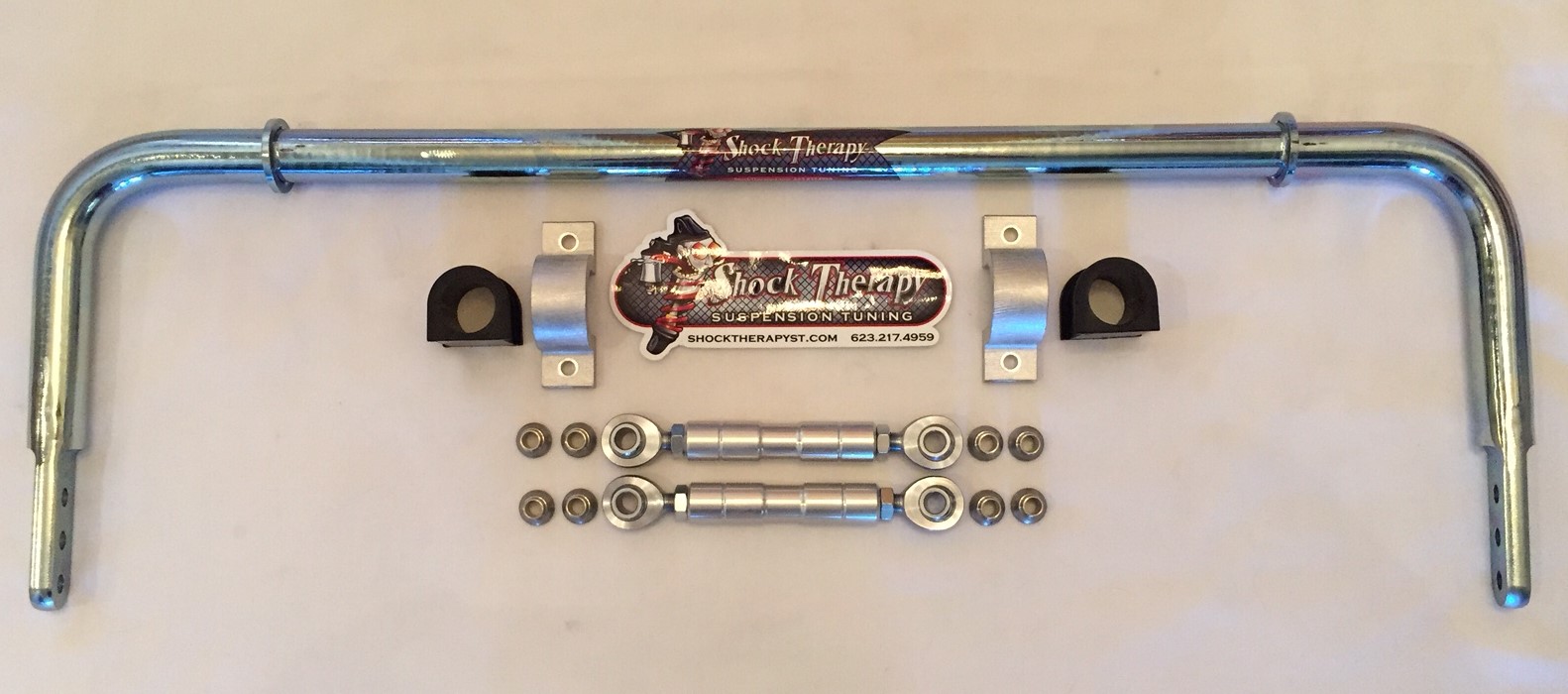 STAGE 3 RIS, includes Stage 1 shock work, Stage 2 rear sway bar and full dual rate spring kit.
After getting the most out of our Stage 1 RIS kit we turned to the short comings in the stock spring package. We immediately removed the factory upper, coil bound, tender springs and machined up our Silent Cross Over Rings to engage the lower springs at a time of our choosing giving us the adjust ability to bring the stiff lower springs into play when we want them to be as opposed to having them engaged at ride height like the factory system is. Another issue we cured is the play or slop between the springs and the pre-load collar, the spring divider and lower spring perch. There is as much as 3/8″ of slop with any aftermarket spring and these parts. We machined 6061 aluminum spacers that take up all of this play for a solid, centered spring system. A full dual spring set with 8 springs, dividers, spring addaptors and cross over rings REALLY wakes up the XPT. All of the negatives in the stock spring system are gone and more bump stage resistance, smoother more plush ride and higher speed whoops all come into play. By far, the best spring kit for every terrain and for the driver who loves to let it all hang out.

Stage 3 RIS kit cost.....$2,449.40


FULL DUAL RATE SPRING KIT BELOW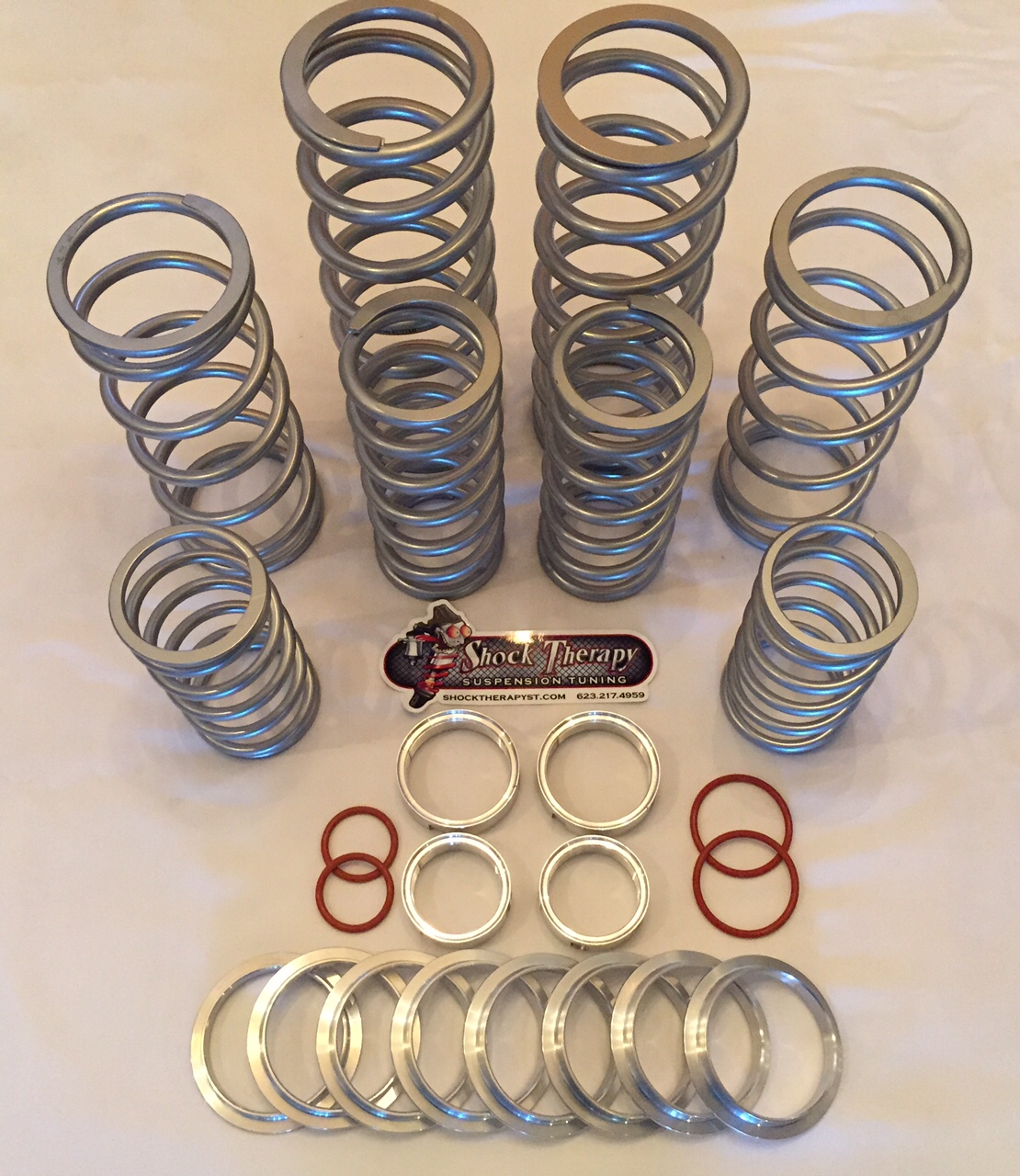 STAGE 4 RIS KIT includes shock work from Stage 1, rear bar from Stage 2, full dual rate spring kit from Stage 3 as well as a front anti sway bar kit
Stage 4 RIS kit takes the previous stages and adds a new, adjustable, stiffer front Anti Sway bar. The factory front sway bar is pretty soft and it isn't adjustable at all. With the addition of our rear sway bar you can now use a stiffer front sway bar to balance the car perfectly in the corners. If the front bar is set properly you may find that you can run the rear bar one setting softer than you normally would and still have a flat, stable, balance car in the corners even if you cook the corner a bit too fast. Less front nose dive in the corner and a four wheel drift type of feel will give you the ultimate confidence to hit the corners quickly and with ease.
STAGE 4 RIS cost...........$2,649.35
FRONT ANTI SWAY BAR KIT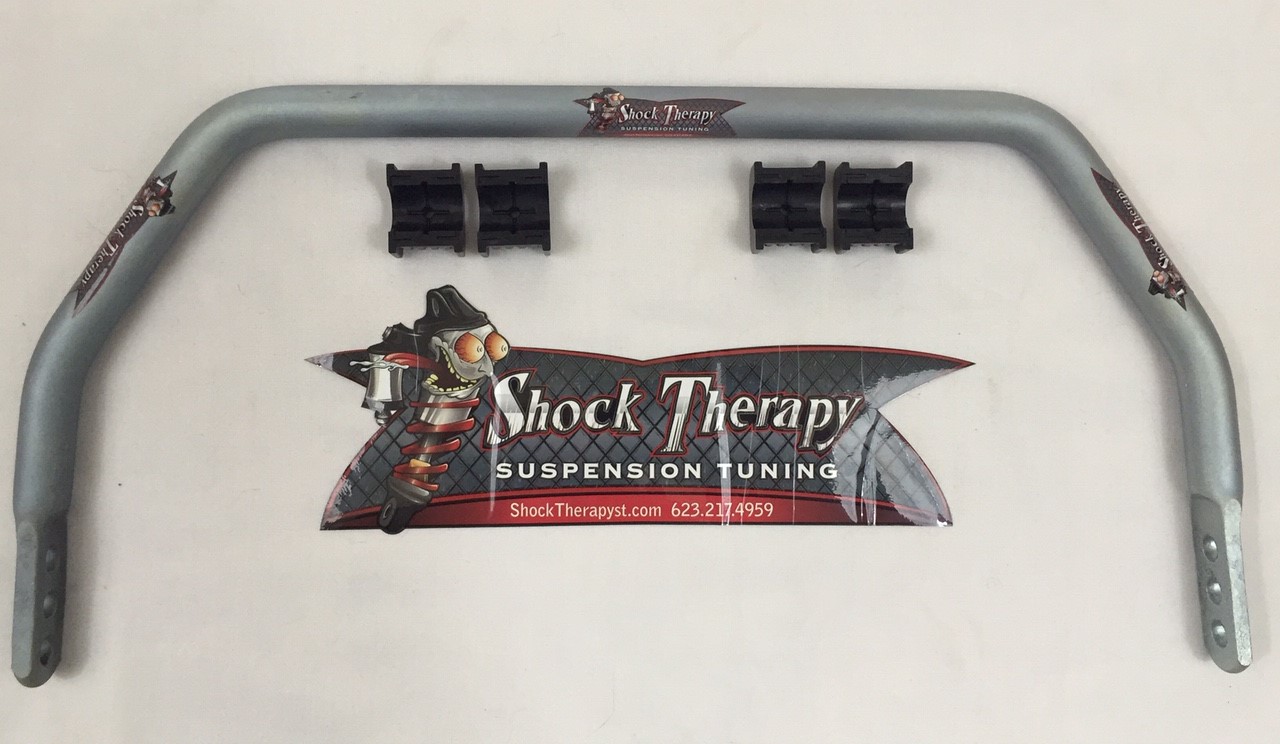 Stage 1 RIS. Internal shock mods for a plush ride and more bottom out resistance…….$749.95 all four

Stage 2 RIS. Adds our adjustable rear anti sway bar to limit body roll......$1,299.90

Stage 3 RIS. Adds our true dual rate spring kit......................$2,449.85

Stage 4 RIS. Adds our adjustable front anti sway bar.............$2,649.95


We use 3″ diameter springs on the front 2.5″ shocks. We use custom made 3.75″ springs on the rear 3″ shocks. There are no springs made by any manufacture (Eibach, Hypercoil, King, PAC, ect) in the correct spring rates needed for the XP Turbo. They are all too light or way too heavy. This is why we had our own springs made. For comparison sake, an Eibach 3.75 x 12″ spring runs $299 to $399 EACH spring depending on the spring rate you choose. Our 3.75″ springs are $159.95 to $214.95 individually depending on the length and spring rate. We are the only company with a kit for the Turbo edition and with multiple spring rates to choose from to fit your needs. Don't wait, call us today to go over your specific needs and get ready to unlock the amazing potential in your XP4 Turbo.

An easy way to show you how these items rate in ride quality is to use a 1-10 scale. 1 being a stock XP4 Turbo and a 10 being the best it could possibly ride, here is how all of your options lay out:

1. Stock XP4 Turbo RZR ride
2.
3.
4. Stage 1 RIS (shock work only) $749.95
5.
6. Stage 2 RIS (rear sway bar added) $1,299.90
7.
8.
9. Stage 3 RIS (dual rate spring kit atted) $2,449.85
10. Stage 4 RIS (adds front sway bar) $2,649.95



We hope this helps when you can see what the best bang for the buck gets you. Give us a call or email us with any questions you may have. Remember all these kits are tune able for your weight and specific use. Thank you